Cash For Junk Cars in Surrey, BC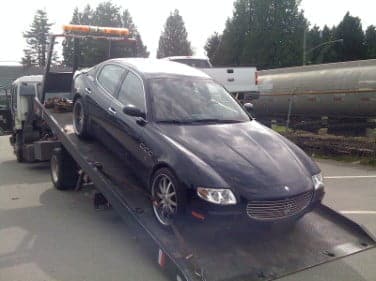 We are experts at removing junk cars. If you have a used car that you no longer use, is not safe to drive on the highways, or you need cash more than your car, we can help. We assume that recycling and disposing of your car can be done in a quick, easy, and cost-free manner. Give us a call if you need free scrap vehicle removal in Surrey or if you want to sell your junk or scrap cars for cash. We will provide the best prices for your scrap cars.
Surrey, one of the most rapidly expanding and culturally diverse cities in Canada, is made up of both large rural and agricultural parts and urban areas. Surrey is the city with the greatest land area and second-highest population in Metro Vancouver. The City of Surrey is dedicated to creating a full community that strikes a balance between a high-quality living environment and a varied, thriving, and sustainable local economy.
We at Noble Towing provide same-day scrap car disposal and much more cash for scrap automobiles than any other scrap car buyer. Don't waste your time searching, as you've already got the best here with us! Contact us today to get cash for your junk vehicle at (604) 765-1576.
What Makes Us Different From Others?
When it comes to your demands for scrap car removal, Noble Towing offers a number of advantages. These are just a few reasons why you ought to select us:
Easy and Fast Pickup: We will send a team to your area to collect your scrap automobile, making the process simple and quick. Because we appreciate how essential your time is, we make sure to arrange the pickup during a time that is most convenient for you.
No towing charges: You don't have to worry about getting a tow truck or paying towing fees when you call a junk car removal business to get rid of your old car. The car will be towed by Noble Towing, and there will be no cost to you.
Environmental Responsibilities: By deciding to work with us, you are assisting in the protection of the environment. We ensure that the toxic chemicals and materials in your automobile do not affect the environment by properly disposing of all junk cars in an eco-friendly manner.
Exceptional Customer Care: We are the best in the scrap vehicle removal business when it comes to providing excellent client service. Our firm belief is that passion for one's work is evident. And we truly enjoy what we do! As we want our consumers to feel like more than simply a number to us, we make an effort to make it happen.
Hassle-Free Process: People run into a lot of issues when they start looking for alternative ways to get rid of their old car, which is no longer useful. With the aid of our car removal services, all you have to do is come see us; our professionals will do the rest. You don't need to worry about anything because we will take care of your location, assess the value of your vehicle, and tow it away after giving you a fair price.
Best Price for Your Scrap Car: Regardless of its condition, we will give you the greatest price for your scrap vehicle. Based on the weight and value of your car, we will provide you with a reasonable and competitive price. When you give us your junk car, we estimate its value based on its condition and give you the maximum cash possible for a vehicle that, to you, is nothing more than a piece of trash.
It is nothing but eating up space if you let hazardous and abandoned vehicles clog your property. Furthermore, it decreases the value of the property and puts you in danger. To reduce these hazards, it is advisable to use reputable cash for car removal services. With Noble Towing, you can get the best services and value without having to deal with the difficulties of selling your car. Contact us today to schedule a pickup time and estimate for your scrap car.